The pandemic has taken a toll on businesses and individuals on many levels. The last 2 years have made us used to daily virtual hangouts and Zoom meetings, thinking that it's going to be our "new normal".
We can't deny that events are something that were affected the most by the pandemic. Many of our client events and activations were cancelled, postponed, or never got off the ground due to the uncertainty and continuous lockdowns in both 2020 and 2021.
Thankfully, 2022 has been more promising with many restrictions eased, businesses opening up again and workers slowly coming back to their workplace.
As we get back to coordinating the events we love, we noticed that events aren't the same as they used to be. There are a few extra steps and measures that we need to pay attention to in the process of planning, organising, promoting and executing the events.
A research report from LinkedIn analysed how events have rapidly changed, based on the response from interviews of more than 1800 marketers across 13 countries. 85% of them held a virtual event in the last year and 28% admit their events are almost 100% virtual.
The data shows that after the pandemic, 40% predicted that events will be virtual moving forward, 36% believe physical events will be back and 24% expect the rise of hybrid events.
This poses a very important question: Are virtual and hybrid events the future?
Based on the report, more than 4 out of 5 respondents from Europe, the Middle East and Africa (EMEA) region agree that virtual events are the future. 79% of them agree virtual events provided opportunities they would not have had before.
Hybrid events are another form of virtual event, however these events uniquely have an in-person component, which makes it the best of both worlds. Attendees can attend and experience the event no matter how they choose to join.
The way it works is through live-streaming the in-person events for remote attendees so they can have the opportunity to participate. With the right technology, remote attendees can engage with presenters and in-person guests to avoid them feeling like they're missing out. The best example for this is perhaps to provide a live Q&A panel, an online poll or even a quiz.
Hybrid events are also seen to be beneficial as the research has shown that 42% of the respondents believe they're more environmentally friendly, eliminating the need to transport and cut down single-use plastics and other disposables that are found in physical events.
We never know what's coming up in the future that can get in the way of our events. Natural disasters, pandemic, or anything else are inevitable and are out of our control. Having hybrid events and implementing it into our strategy means that we can fall back easily to ensure that we're ready for these uncertainties.
Finally, hybrid events have a big potential to effectively reduce costs in renting the venue, catering, travel and transport, especially when it's a large-scale event.
Timely Harmony Day Lunch & Learn Event
Here at Modern Currency, we have implemented a few hybrid models into our client's events, one of them was one that we curated for our client Timely.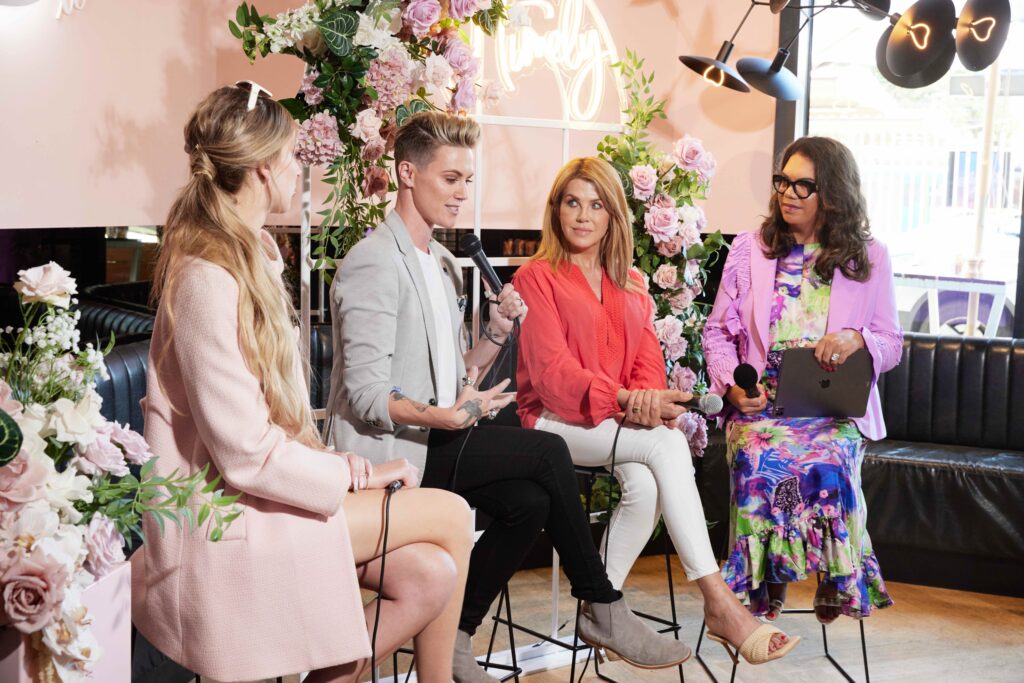 Timely Harmony Day Lunch & Learn Event at House of Lulu White. Hosted by gender diversity advocate Mary Haddock-Staniland and panel Brihony Dawson, Grace Hyland and Peta Shulma.
In celebration of Harmony Day and their newly released feature where you can list your pronouns when booking a beauty appointment, Timely hosted an influencer lunch and a panel discussion on gender diversity that was streamed live to their network.
This concept of hybrid events worked out seamlessly with the right technology, as we've seen significant engagement between the influencers, the panel and host that attend the physical event, with Timely's network that participated via live-stream.
What now?
We have to adjust and be prepared for any kind of challenges that are coming to us, especially in the post-pandemic era, including implementing hybrid or virtual events into our strategy and making this service available.
Rebecca Harmer, head of LinkedIn Marketing Solutions Events said, "As we approach 2022, virtual and hybrid events are no longer a substitution for anything else. Nor are they a temporary pivot. Instead, they represent a new reality that unlocks exciting possibilities for many more organizations than ever before to successfully leverage the power of business events."

If you're looking to do activations and events for your brand, don't hesitate to reach out to us at hello@moderncurrency.com.au. Our team of killer event planners are ready and equipped with the necessary knowledge, talent and experience in this space of events, including hybrid!